Make Us Your Preferred Medical Clinic in El Paso, TX
We offer reliable health care services in a friendly and welcoming environment
Do you have a medical problem that requires the attention of a doctor? Sun City Medical Clinic is home to extremely talented medical professionals who have all dedicated themselves to helping others. Our medical clinic offers a wide range of health care services in El Paso, TX, including vaccinations, physicals and general wellness exams. You can count on our team to treat you with respect and help you manage your health in the best way possible.
Call 915-849-9010 now to find out more about our health care services
Personalized health care services for adults and children
Sun City Medical Clinic is dedicated to providing unsurpassed health care services to adults and children in El Paso, TX. Whether you need a routine physical or COVID-19 rapid testing, we'll go above and beyond to make your visit comfortable at our medical clinic.
Our physicians specialize in:
General health
Prevention & wellness
Comprehensive physicals
Complete physicals
School physicals
Work, school & travel exams
Ultrasounds
In-house labs
Minor ambulatory procedures
Diabetes mellitus
Hypertension
High cholesterol
Skin tag removal
Immunotherapy
Skin lesions
Warts
Acne
The flu
Common colds
Allergy testing
TB testing
Flu vaccines
Contact us today to schedule your medical appointment. Or, visit us right away for urgent matters. We're located at 1651 Joe Battle Boulevard Suite A.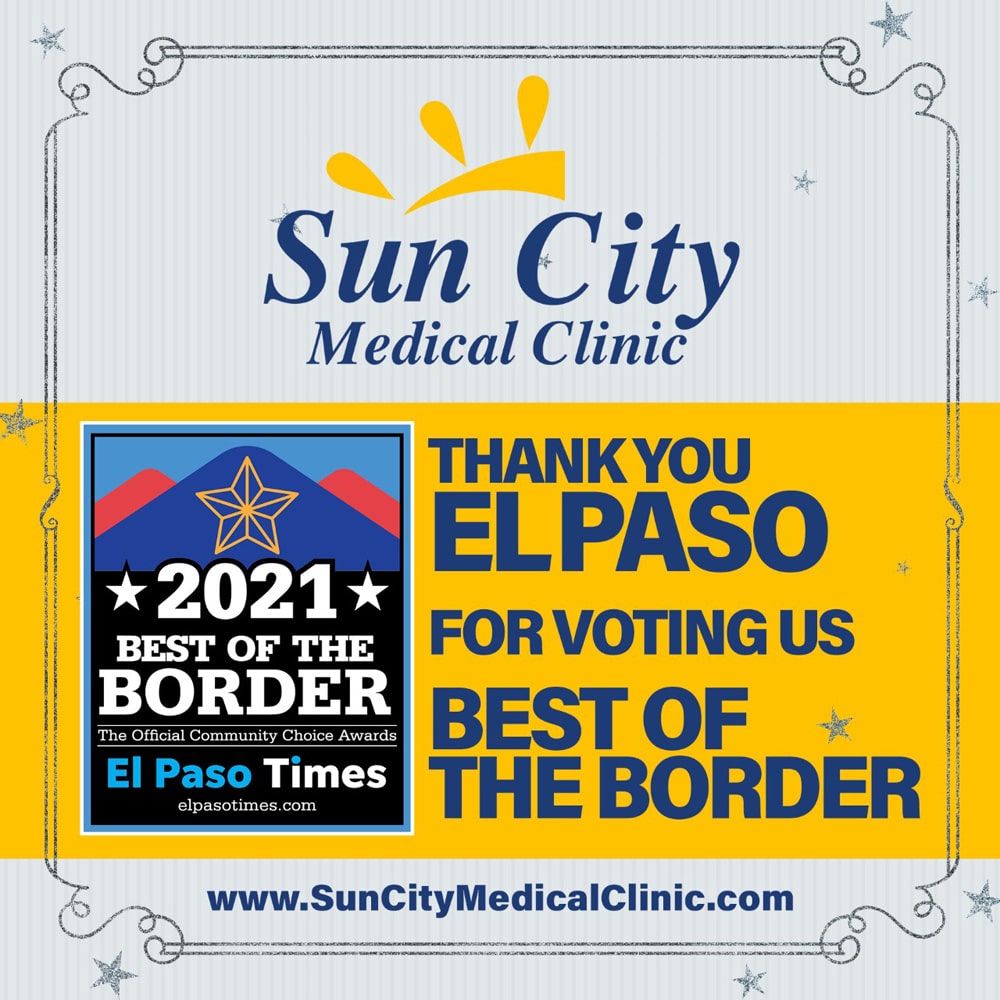 Opening Hours:
Mon: 8:00AM-12:00PM 1:00PM-5:00PM
Tue: 8:00AM-12:00PM 1:00PM-5:00PM
Wed: 8:00AM-12:00PM 1:00PM-5:00PM
Thu: 8:00AM-12:00PM 1:00PM-5:00PM
Fri: 8:00AM-12:00PM 1:00PM-5:00PM
Sat: 8:30AM-3:30PM
Sun: Closed
Days Closed for Holidays
New Years Day
Good Friday
Memorial Day
Independence Day
Labor Day
Thanksgiving Day
Friday After Thanks Giving
Christmas Eve
Christmas Day
New Years Eve
New Years Day
Latest Clinic News ALERT:
Why do a Comprehensive Physical?
Comprehensive Physicals
Most insurance companies offer a free preventive office visit. Our preventive visit entails several screening tests to include lung function test, heart function, physical examination along with an array of laboratory tests.
Allergies?
Do you suffer from allergies? We offer allergy testing and treatment. The treatment of allergies requires
for patients to get a weekly injection of the substances that cause the allergic reaction. These weekly injections will desensitize the patient which in turn will help with the allergies.
Pain in Your Legs? Possibly Veracose Veins.
Varicose Veins are an achy or heavy feeling in your legs. Burning, throbbing, muscle cramping and
swelling in your lower legs, worsened pain after sitting or standing for a long time. We offer treatment
of varicose veins to help alleviate the discomfort. Treatments are performed in the Doctor's Office.
Flu Shot?
Call to see if you're eligible (915) 849-9010
Our Services:
General Health
Prevention & Wellness
Comprehensive Physicals
Work/School/Travel Exams
Ultra Sounds
In House Labs
Minor Ambulatory Procedures
Diabetes Mellitus
Hypertension
High Cholesterol
Skin Tag Removal
Immunotherapy
Skin Lesions
Wart
Acne
Common Cough and Colds